Description
Universal combined machine with all minimax quality, at the most affordable price, ideal for demanding hobbyists and crafts woodworking workshops.
The distinctive features of all our combined woodworking machines are:
EASE-OF-USE
The system of surfacing worktable opening toward the inside of the machine guarantees an excellent ergonomics.
All woodworking combined machines are equipped with anodized-extruded guides with support and rapid locking and an effective feeding system for the planer. These features make these machines easy-to-use for any type of machining.
FLEXIBILITY
Maximum flexibility when using the cutters, with the spindle moulder unit equipped with various speeds. The machines are equipped with spindle moulder hood with micrometric adjustment, very useful for moulding working.
The tenoning operations (option) are easy tank to the aluminum carriage and the dedicated speed
PRECISION
A tiltable saw unit, with sliding of the anodized aluminum carriage next to the blade for a better cutting precision are only some of the standard equipment of the minimax woodworking combined machines.
The lifting and tilting of the unit with practical hand wheels guarantee an easy setting among different machining.
SAFETY
Rich CE safety devices, like the shaft protection to carry out shaping operation and working on curved profiles. The machining on the planer is very easy thanks to the large dimensioned surfacing tables
Discover the "Xylent" cutterhead, available for this machine
Advantages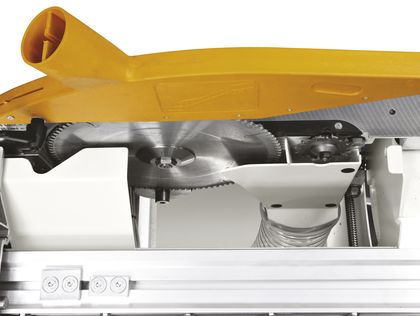 Best cutting
New saw unit with a blade that has a maximum diameter of 315 mm with the scoring blade installed. The new scoring unit can be supplied on request and can easily be adjusted from outside the machine.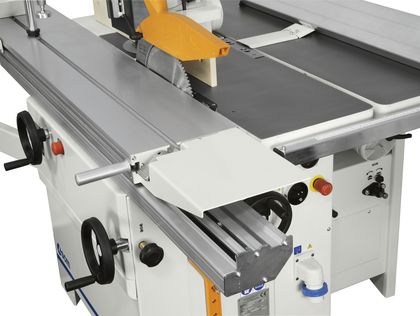 Perfectly stable support
Easier, more precise cutting is possible thanks to perfectly stable support guaranteed, even for large work pieces, by the 270 mm wide sliding table.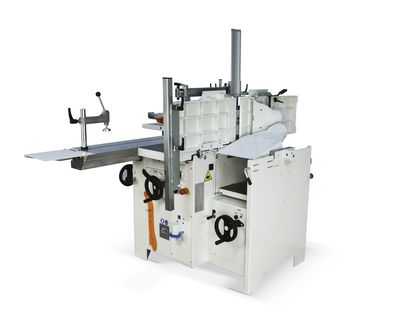 Higher efficiency
During the changeover from surfacing to thicknessing the surfacing tables open towards the inside of the machine with a 90° angle, facilitating thicknessing. Work pieces with a maximum height of 220 mm can be machined to the thicknesser. The new design of the dust-conveyor, protecting the cutter block, is specifically intended to further increase system safety and efficiency.
Superior performance
The spindle moulder unit has a spindle with a useful working length of 100 mm. A tool with a maximum diameter of 180 mm can be retracted under the worktable. For machine maximum safety and increased flexibility, a spindle moulder protective hood for shaping is supplied as standard.
Technical data
| | | |
| --- | --- | --- |
| lab 300p | | |
| Cutterhead working width | mm / inches | 300 / 12 |
| Jointer bed length | mm / inches | 1300 / 51 |
| Max. sawblade diameter with scoring blade installed | mm / inches | 315 / 12 |
| Max. sawblade projection from table at 90°/45° | mm / inches | 100 / 78 3.94 / 3.07 |
| Cutting width on parallel fence (Rip capacity) | mm / inches | 800 / 31.5 |
| Max. useful spindle length | mm / inches | 100 / 4 |
| Max. tool diameter when profiling | mm / inches | 210 / 8.27 |
| Spindle moulder speed | rpm | 4000 / 7000 / 9000 |
| (3x) Single-phase motors | Hp | 3.4 |
| Max. squaring stroke of sliding table saw | mm / ft | 1600 / 5.5 |